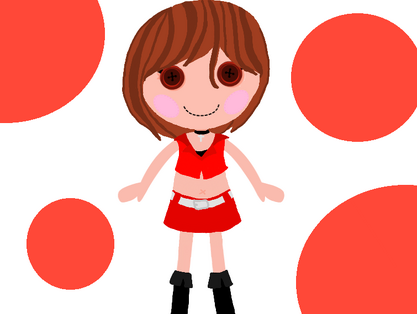 Yosh! After what seemed like 3 months, Meiko is finally done! I'm in the Philippines for my vacation so... internet isn't available at my laptop... ; ^  ; I can't download Piko's cover of Streaming Heart.... TT^TT
Information
Meiko was made on November 5 with red 0's and 1's .... Shipping intent detected.
Personality
Meiko's usually drunk so nobody actually knows her true personality... Either that or she's always angry and tries to do crazy stunts.... I'd like to stick to theory number one. There's only one thing everyone's sure of. She likes sake.... Probably why her name's a homonym of it...
What Meiko Looks Like
Meiko has short chestnut hair and wears a red leather petite jacket over her black...err... bra... She wears a short red leather skirt with a silver belt over it and a black leather collar with a cross on it.
Meiko's Pet
Well if a slightly responsible Len couldn't have one, I don't think a drunk, moody Meiko can.
Meiko's Home
Meiko's room in the VocaMansion smells. If it weren't for Luka who comes over every week, her room would be filled with sake bottles. Of what could be seen of it, Meiko has white walls with red dots of random sizes, black, leather couches and a red, leather bed. The only place that was clean and accessible (except the bathroom) was a closet filled with sake.... It was unusually clean and well organized... Rumors have it that Meiko showers while drinking sake...
Meiko's Other Merchandise
Meiko singing full size
Meiko full size
Meiko and Kaito full size
Meiko mini
Meiko loopy hair doll
Meiko silly hair doll
Ad blocker interference detected!
Wikia is a free-to-use site that makes money from advertising. We have a modified experience for viewers using ad blockers

Wikia is not accessible if you've made further modifications. Remove the custom ad blocker rule(s) and the page will load as expected.