She is LCD's clumsiest mint enthusiast ever!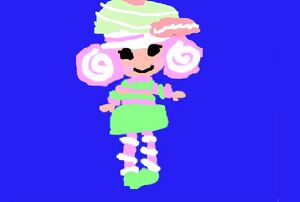 Information
Sewn On: February 11th (National Peppermint Patty Day)
Sewn From: Peppermint Wrappers
 Personality of Olivia
Olivia loves mints! She even loves breath mints! Her only flaw is that she is VERY clumsy and knocks things over by accident.  
Likes: Mints, Standing on her head, checkers, green, socks
Dislikes: her clumsiness
Quote: I'm not clumsy, Its just that the floor hates me, and the tables and chairs are bullies, and the wall gets in the way.
What Olivia Looks Like
Hair Color: Pink with white streaks
Hat Color: Green with a pink puff
What She Wears: A dress with pink and minty green stripes
Her Sewn on Pattern: Green and Pink stripes
Olivia's Pet
She Ate Her Pet because she thought it was a peppermint
Olivia's Home    
Roof: Peppermint Sticks
Wall: Green, White and Pink
Olivia's Other Merchandise
Full Size Doll
Mini
DVD "The Story of the Clumsy Girl" with Exclusive Mini
Loopy Hair
Silly Singer
Baby Doll
Bundle Pack with Savannah Kawaii N Epic and Gabi Hates Bullies
Soft Doll
Micro
Silly Hair
Guess What!
Her design is based off a clumsy G3 pony named Minty
Her intials are OCD, which is obessive compulsive disorder, giving her the personality of being clumsy
She represents clumsy and disabled people
One of her closest friends is Twilight Mellowtone.
She will be released with 2 other dolls, Roy G. Biv and Alley Oop.
Ad blocker interference detected!
Wikia is a free-to-use site that makes money from advertising. We have a modified experience for viewers using ad blockers

Wikia is not accessible if you've made further modifications. Remove the custom ad blocker rule(s) and the page will load as expected.