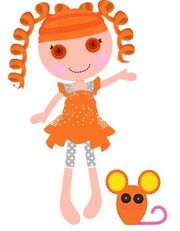 Orange Dips is by KeithArnaultsFanon and was later improved by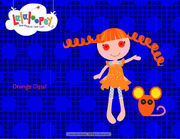 Aliahvenicegarcia
Information
She was sewn on August 21 (National Orange Day) and was sewn from an orange peel.
Orange's Personality
She loves eating oranges and making orange desserts.
Orange's Appearance
She has red eyes and curly orange hair and an orange dress. She has no shoes so she has to tip-toe.
Pet
Her pet is an orange mouse.
Orange's Home
She lives with KeithArnaultsFanon along with other of KeithArnaultsFanon's OCs.
Orange's Merchandise
Orange Dips Full-Sized Doll
Orange Dips Mini
Orange Dips BFF Pack with KeithArnaultsFanon's Lala Self
Guess what!
Ad blocker interference detected!
Wikia is a free-to-use site that makes money from advertising. We have a modified experience for viewers using ad blockers

Wikia is not accessible if you've made further modifications. Remove the custom ad blocker rule(s) and the page will load as expected.