Penny is Issa Perez's seventh full sized doll and her eight doll overall.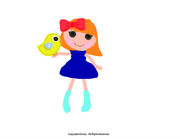 Information
Sewn date: January 13 (National Rubber Ducky Day)
Sewn from: A rubber duck
Personality
She likes helping animals, because she doesn't like them to be extinct. Especially ducks! And In fact, She dosen't live with her parents anymore. She now lives in alone, with her pet. during her spare time, She goes to parties, and goes gardening. Some people recognize her as "the Jack of all trades". One time, she set up chairs for a kid's birthday party. Also, she's addicted to Super Smash Brothers Brawl.
What she looks like
Hair color: Orange
Eye color: Black
What she wears: Blue dress, light blue rubber boots.
Pet
Her pet is a duck that looks like a chicken.
House
It's a house that looks like an animal shelter.
Other Merchandise
Full size doll
mini doll series#1
Loopy Hair
Soft doll
Button Tails Chicken
Ad blocker interference detected!
Wikia is a free-to-use site that makes money from advertising. We have a modified experience for viewers using ad blockers

Wikia is not accessible if you've made further modifications. Remove the custom ad blocker rule(s) and the page will load as expected.