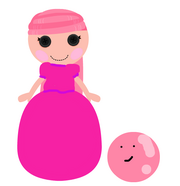 Pinkcess Bonnibel is the first doll to be released in the Adventure Buttons line. She loves sci-math! She has brushable hair. Her pet can talk!
Information
She was sewn on September 30, Chewing Gum Day. She was made from Princess Bonnibel Bubblegum's Dress.
Personality of Pinkcess
She loves Bubblegum! She lives in a wacky silly kingdom called "Candy Buttons Kingdom". She's smart, silly, beautiful, pink and SCIENTIFIC! She loves pink, pink, pink, pink and PINK! She's kind of a nerd.
What Pinkcess Looks Like
She wears a pink gown with a purple collar. She has a purple line on each sleeve. Her hair is pink, which is a reference to bubblegum.
Pinkcess' Pet
Her pet is a cute little bubblegum with dot-shaped eyes. 
Pinkcess' Home
She lives in a castle in Candy Buttons Kingdom. Her castle has five floors.
1st Floor: Lobby/Living Room
2nd Floor: Guest Rooms
3rd Floor: Her Room
4th Floor: Indoor Candy Swimming Pool
5th Floor: Eat Candy Floor
Pinkcess' Other Merchandise
Pinkcess Bonnibel ToysRUs Exclusive Full-Sized Doll
Pinkcess Bonnibel ToysRUs Exclusive Mini
Pinkcess Bonnibel, Finn D. Hero and Jake Magic 'N' Dog ToysRUs Exclusive Twin Pack
Pinkcess Bonnibel Water Bottle
Pinkcess Bonnibel ToysRUs Exclusive Soft Doll
Pinkcess Bonnibel, Finn D. Hero and Jake Magic 'N' Dog ToysRUs Exclusive Mini Twin Pack
Guess What!
She was based on Adventure Time's Princess Bubblegum.
She adopted her pet in the Candy Buttons Kingdom Pet Display.
Her pet tried to eat her hair when she just adopted it.
She's the first doll that has been released in the Adventure Buttons line.
Her hair is Bubblegum. (But don't worry. The real doll's hair is made out of plastic)
She ate her pet once.
Her pet is edible.
September 30th is Chewing Gum Day
Ad blocker interference detected!
Wikia is a free-to-use site that makes money from advertising. We have a modified experience for viewers using ad blockers

Wikia is not accessible if you've made further modifications. Remove the custom ad blocker rule(s) and the page will load as expected.