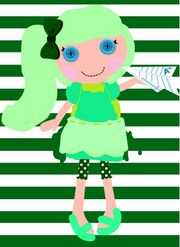 Polly Green Tree is a Lalaloopsy doll originally by an anon, then improved by Issa Perez.
Information
Sewn from: Wood
Personality
Polly loves caring for the enviorment and hanging with her friends Blossom and Gina.
Appearance
She wears a green dress with a mint tutu, a green backpack, and a green bow.
Pet
Her pet is a bonsai!
House
She lives in a treehouse
Other Merchandise
Ad blocker interference detected!
Wikia is a free-to-use site that makes money from advertising. We have a modified experience for viewers using ad blockers

Wikia is not accessible if you've made further modifications. Remove the custom ad blocker rule(s) and the page will load as expected.