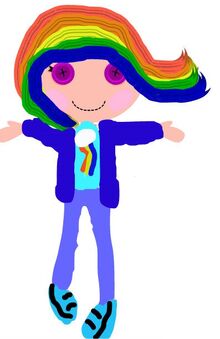 Nobody made a "My Lala Loopsy" Doll in forever! But here's the newest addition to the My Lala Loopsy Collection, Rainbow Dash Flash! (Sorry, Princess Rainbow Loopenboom.)
Information
She was sewn on the 14th of February which is rainbow day! (Also Valentines Day, what a coincidence!) And was made from a Rainbow Dash T-shirt.
Personality
She like to run marathons, and she is really sporty. She is also so fast, faster than Lickety and Active combined!
Appearance
She has the same hairstyle as Casual Brownie, "The Flip". She also has a blue jacket, a shirt with her Button Mark, jeans, and blue sneakers.
Pet
Her pet is a hare. (I selected a hare because of "The Hare and the Tortoise".
Home
She lives in Cloudsville, like Princess Rainbow Loopenboom.
Other Merchandise
Guess what!
February 14th is Rainbow Day which is also Valentine's Day.
Ad blocker interference detected!
Wikia is a free-to-use site that makes money from advertising. We have a modified experience for viewers using ad blockers

Wikia is not accessible if you've made further modifications. Remove the custom ad blocker rule(s) and the page will load as expected.