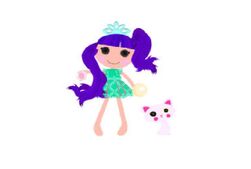 Information
Sewn On: June 24th (National Fashion Day)
Sewn From: A Rarity T-Shirt
Personality of Rarity
Rarity is a fashion designer,she loves jewels,dresses, and fashion shows! She hates to get dirty. She also adores being in the spotlight,one time she got jealous of Fluttershy because she was a fashion model and Rarity was not.
What Rarity Looks Like
She has fair skin and basic black button eyes. She has purple hair in a hairstyle like MLP Rarity.She has a teal tiara(She's not a princess,she just loves fashion). She has a teal dress. She used to have shoes like Tippy Tumbelina's,but her sister Sweetie Belle Glitz 'N' Glamour stole them.
Rarity's Pet
She has a white cat named Opal
Rarity's Home
She lives in the Carosuel Boutique
Rarity's Other Merchandise
Target Exclusive Full Size Doll
Guess What!
Her best friends are Twilight Mellowtone,Red Apple Jack,Pink Pinkie Pie,Fluttershy Kind 'n' Sweet and Rainbow Dash (not yet posted)
June 24th is National Fashion Day.
Ad blocker interference detected!
Wikia is a free-to-use site that makes money from advertising. We have a modified experience for viewers using ad blockers

Wikia is not accessible if you've made further modifications. Remove the custom ad blocker rule(s) and the page will load as expected.