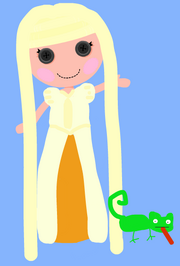 Introducing... Razzy Long Hair! The first ever Lalaloopsy doll that has hair that you can braid, brush and ponytail!
She's a fanmade character by Aliahvenicegarcia.
She is included in the Top Three Customs.
Information
Sewn On: Nov. 28
Sewn From: Rapunzel's Hair
Personality of Razzy
Razzy loves to brush her hair! Her pet chamelion helps her!
What Razzy looks like
Hair Color: Blonde hair that's SUPER long.
What she wears: A white gown that has orange under.
Her sewn on pattern on her dress: Orange under
Other things on her dress: Gold sides
Razzy's Pet
Her pet is a cute green chamelion.
Razzy's Home
Roof: Red bricks
Wall Color: Gold
Razzy's Other Merchandise
Razzy Long Hair Full Sized Doll
Razzy Long Hair Mini 
Razzy Long Hair Loopy Hair
Guess What!
Razzy has Barbie Hair. She doesn't have plastic hair like the other ones.
Bella accidently cut a piece of her hair.
On the TV show, Her hair is cut brown.
She has a Loopy Hair Doll; even if she ALREADY has doll hair.
Her Loopy Hair has super long hair!
She will part of the Loopsy Princesses Line coming 2014
Ad blocker interference detected!
Wikia is a free-to-use site that makes money from advertising. We have a modified experience for viewers using ad blockers

Wikia is not accessible if you've made further modifications. Remove the custom ad blocker rule(s) and the page will load as expected.