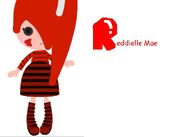 Reddielle Mae Pop is the first doll in the 
Punk Rock Loopsy 
line. She is a fanmade character by Aliahvenicegarcia.
Information
Meet Reddielle Mae Pop! She was sewn on October 18. She was sewn from a Pop CD.
Personality
Reddielle loves Pop. She collects Pop CDs. She may look cute, but she's as tough as a Pitbull! But deep inside, she's sweet and caring.
Appearance
She wears a red dress with a pair of red boots.
She has pale skin with black eyes.
Pet
She doesn't have one
Home
She lives in a record house.
Guess What
She was originally drawn on Aliah Venice Garcia's notebook.
Ad blocker interference detected!
Wikia is a free-to-use site that makes money from advertising. We have a modified experience for viewers using ad blockers

Wikia is not accessible if you've made further modifications. Remove the custom ad blocker rule(s) and the page will load as expected.