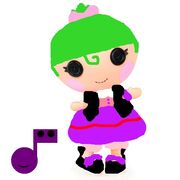 Rina Musicnotes is a fanmade character by Aliahvenicegarcia. Her big brother is
Miles Musicnotes
! She loves notes + music! 
Information
Sewn On: December 13 (Violin Day and Taylor Swift's Birthday)
Sewn From: A Violin
Personality of Rina
Rina loves Violins! She (obviously) loves the color purple! She makes a perfect pair with Rhythm Jingletunes! She loves black-colored shoes!
What Rina looks like
Hair Color: Green
What she wears: A pink blouse with a collar, A black musical jacket, A purple skirt. 
Her sewn on pattern on her dress: White Collar
Other things on her dress: Red curvy line at her skirt and 2 purple buttons on her blouse.
Rina's Pet
Her pet is a music note!
Rina's Home
She lives with her brother!
Rina's Other Merchandise
Guess What!
She loves the color purple!
She and Rhythm make a perfect pair!
A lot of dolls hated her after reacting happily afterr the oil spill.
When she was younger, she used to wear glasses.
December 13th is Violin Day and Taylor Swift's Birthday.
Ad blocker interference detected!
Wikia is a free-to-use site that makes money from advertising. We have a modified experience for viewers using ad blockers

Wikia is not accessible if you've made further modifications. Remove the custom ad blocker rule(s) and the page will load as expected.