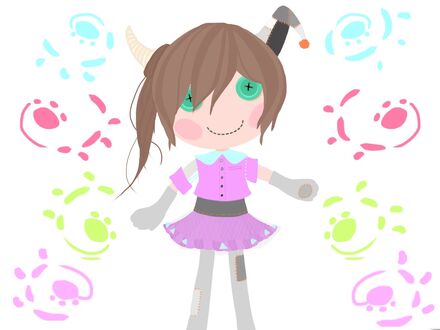 Judging by the title, I have completely run out of ideas for names. I was working on a ButtonTales! doll when I suddenly went "Oh. The dress looks too plain." And went into idea block. Just like how I am right now about her name.
Anyways, Here's your monthly doll. It's a donkey/sheep/some sort of grey animal with horns. And by the horribly vivid colors (which I have tuned out a bit), This is gonna be a Head-LINE Circus doll.
While I'm still ranting I'll write down stuff for name ideas. Bake, Kaibutsu, Mono... Monokake? Keeping just the Mono, Monoko, Monori, Monoka.... Mona...? Too oldish. Monelle? Monoir... Noir. Panacea. For some reason, Panacea came into mind. Panoire. Nonacea. This is why Alice should name her OCs. Rion. Aecanap. Rione Aecana. That's it.
Information
Rione was made by: Taxidermy. I mean. She's a rag doll with a donkey/sheep/orsomething's skin and horns sewn together with her. As usual, the Head-LINE dolls' sewn on date are unknown. I'm sorry I want to practice taxidermy one day to let Mr. Green be with me forever~
Rione's Personality
Rione is shy. She's usually excluded and shunned because... Well, If you had horns, paws and hooves, I think people would ignore you for life and would rather not talk to you. But of course, She was also half rag doll, which meant she still has feelings. And wow it hurts to be ignored. Eventually, she became an outcast who has no friends, and who are those outcast guys with no friends either? Yep the Head-LINE Circus. Took her in and stuff so yea.... FRIENDS!(?)
What Rione Looks Like
Rione has pale skin, flesh colored cheeks and green eyes. She has messy brown hair that she wraps around her left (or right if you look at it from her view) horn, forming a bun/ponytail.... Bunnytail? She covers her right (or left in first person view) horn with a patched up, black and white... night cap? with a fluffy red pom-pom at the end. She wears a purple low cut polo with the left (or again, right looking at her view) sleeve hanging off with some teal thread together with teal collars over a gray under shirt and a purple skirt with teal triangles hanging at the ends under a gray fishnet layer. Other than her clothes, she also has gray paws starting from her elbow and gray, patched up feet with dark grey hooves.
Rione's Pet
Does she really need a pet? I mean- She's half animal already.
Rione's Home
Teeeeent~~ Circus teeeeent〜〜〜
Other Merchandise
Rione Full Sized Doll
Rione Mini
Ad blocker interference detected!
Wikia is a free-to-use site that makes money from advertising. We have a modified experience for viewers using ad blockers

Wikia is not accessible if you've made further modifications. Remove the custom ad blocker rule(s) and the page will load as expected.