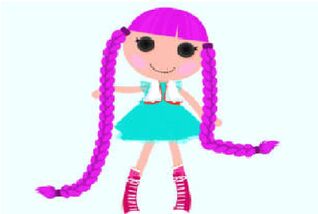 Information
Sewn On: May 29th (National Roleplay Day)
Sewn From: A roleplayers dress
Personality of Roleplay
Roleplay loves roleplaying! She is very funny and random,she also likes shipping
Likes:roleplaying,fun,shipping,comedy,adventures,breaking the 4th wall on the LCD episodes
Dislikes:Bullies,Snobbish brats,getting critisized by certain people
What Roleplay looks like
Roleplay has purple-pink hair in braids.She has a teal dress with a white vest.She has magenta high tops.
Roleplays pet
Roleplay is very scared of dogs so she didnt buy one she has a cat
Roleplays Home
Roof:rainbow
Wall:blue with posters of her and her friends
Roleplays Other Merchandise
Roleplay Full Size
Roleplay Mini
Roleplay Loopy Hair
Roleplay soft doll
Roleplay micro
Roleplay lunchbox
Friends
Blossom Smart n Nerdy
Bubbles Cute n Bubbly
Buttercup Tomboy n Brave
Gloomy Pink Bow
Benjamin Coup De
Flare Fire Princess
Death Stitched N Sewn
Twilight Mellowtone
Samantha Kawaii N Epic
Rarity Glitz 'N' Glamour
Teto Kansane
Oreo Creamyfrosting
Gabi Hates Bullies
Guess What!
She is a master at karate so if you pick on her watch out!
She is everyone's friend,but she is best friends with ScrapsStitchedNSewn9's and AskSuzette101's OCs
May 29th is National Roleplay Day.
Gallery