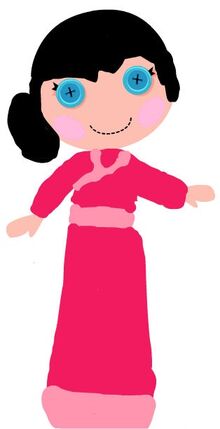 Since Miitsukii is no longer active, I decided to be the one to make Sachi's Page. She made this doll before Yuki Kinomo's Revealing.
Information
Sewn on : March 1 (Japan Independence Day)
Sewn from: The Japanese Flag
Personality
Sachi is a girl who is currently trying to have a zen garden. She also has a big craving for Sushi and Sashimi! (As long it isn't vegan.)
Appearance
She wears a pink kimono and wears sandals.
Pet
Her pet is a fish.
Home
She lives in Japan, and is usually a traveling folk around LCDI.
Competitions
Little Miss Princess - September 2013
Other Merchandise
Sachi Full Size Suzy
Mini Sachi
Country Pack with Maria, Talyor, and Suzy
Sister Pack with Sushi Japan
Gallery
Ad blocker interference detected!
Wikia is a free-to-use site that makes money from advertising. We have a modified experience for viewers using ad blockers

Wikia is not accessible if you've made further modifications. Remove the custom ad blocker rule(s) and the page will load as expected.