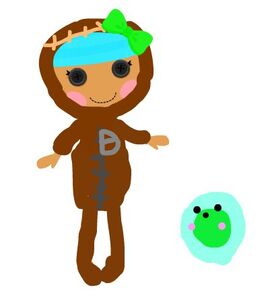 Meet 
Sack Girl
, she is the Lalaloopsy version of Sackboy from PS3! Another customized Lalaloopsy doll by Oriana2003love.
Information
Sewn on: October 27th (Sackboy's Birthday)
Sewn from: Sackboy's material
Personality of Sack
Sack is a girl who loves creating levels! She also collects score bubbles to buy stuff as well! She hates dangerous platforms because she'll die!
What Sack looks like
Hair Color: Light blue
What she wears: A brown sackboy costume with a big green bow
Her sewn-on pattern on her dress: Brown
Other things on her dress: A zipper on the body and stiches on the head
Sack's Pet
Sack's pet is a score bubble!
Sack's Home
Sack lives in a big rocket-like cardboard home hanging.
Sack's other merchandise
PS3 anniversary Lalaloopsy exclusive
​Guess What!
She is clumsy for powerups!
Her favorites are add-ons to her costumes
Gallery
Ad blocker interference detected!
Wikia is a free-to-use site that makes money from advertising. We have a modified experience for viewers using ad blockers

Wikia is not accessible if you've made further modifications. Remove the custom ad blocker rule(s) and the page will load as expected.