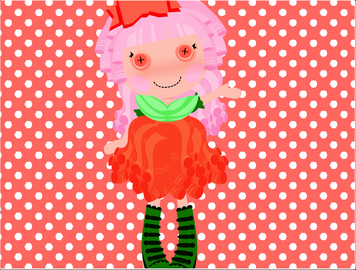 Whoopee. Last one in the bag :) School starts tommorow though ; ^ ;  I was bored when I made this :"(
Information
Sakura was sewn on March 20 which is the start of the National Sakura Festival in 2014 with paper blossoms..
Personality of Sakura
Sakura is very shy and pure. She blushes at every nice thing that loopsies do for her. She loves writing and sending thank you letters for everyone.
What Sakura Looks Like
Sakura is fair skinned with pale red eyes. She has pink hair with some of it pulled and tied back. She wears a dress that looks like a cherry... bell? She has dark green boots and a pale red bow on her hair.
Sakura's Pet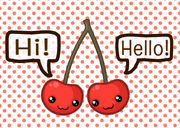 Sakura's pet is a cute anime-ish cherry. It has a face. Which is unnatural. They can also talk....
Sakura's Home
Sakura has a bell shaped house, colored pastel red. Her lawn is full of cherry blossom petals. Whoopee.
Sakura's Other Merchandise
Full Sized Doll
Mini Doll
Loopy Hair doll
Silly Hair Doll
Ad blocker interference detected!
Wikia is a free-to-use site that makes money from advertising. We have a modified experience for viewers using ad blockers

Wikia is not accessible if you've made further modifications. Remove the custom ad blocker rule(s) and the page will load as expected.