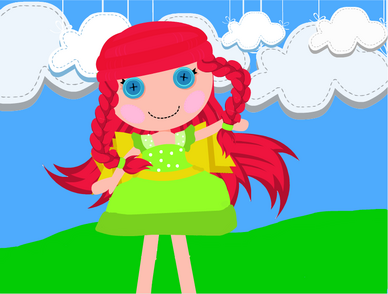 Well... I guess loads of people really wanna post green dolls for spring... *ahemSourahem* anyways this has been in my Dolls I Haven't Posted Yet since June 25.... or so the image history says.
Information
Sally was sewn on June 25 with bright, neonish petunias. The maker is really unimaginative *ahemCookiezahem* that she decided to just put the day she finished Sally.
Sally's Personality
Sally's like a walking... lightbulb! She brightens up everyone's day with petunias and gifts. Although sometimes she gets a little bit annoying by FC (feeling close).
What Sallly Looks Like
Sally is fair skinned with pale pink cheeks, blue eyes and long neon pink straight cut bangs and hair that flows up to her waist, braided by the sides,tied by neon green bands. She wears a neon green dress, seperated by a yellow ribbon tied at her back. The upper part of her dress is glittery. The sleeves are sparkly pastel green with green frills. The lower half is plain neon green with a thick, green lining at the bottom. She wears neon green flats with yellow bows on the tip.
Sally's Pet
Sally doesn't have a pet....  but she has one of those bobble head flowers..... I think that counts.
Sally's Home
Sally's house is neon green decorated with yellow bows horizontally, continuously. The roof is shaped like a petunia and painted neon pink. Her lawn is basically a petunia garden.
Sally's Other Merchandise
Sally full sized doll
Sally mini 
Sally silly hair
Sally loopy hair doll
Guess What?
She shares her name with Sally Wonder.
Ad blocker interference detected!
Wikia is a free-to-use site that makes money from advertising. We have a modified experience for viewers using ad blockers

Wikia is not accessible if you've made further modifications. Remove the custom ad blocker rule(s) and the page will load as expected.