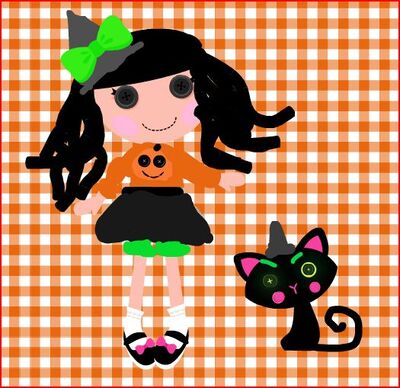 Scary O' Ween is one of the Holiday Lalaloopsy Dolls! Her little sister is
Tricky O' Ween
Information
Sewn on: November 1st (All Hallow's Day)
Sewn from: A Halloween Bucket
Personality of Scary
Scary loves to scare everyone! Also she loves Trick or Treating everyday! 
What Scary looks like
Hair Color: Black
What she wears: An orange sweater with a pumpkin with black buttons and stitched on smile and a gray skirt with green puffed leggings, and a gray witches hat with green bow.
Her sewn-on pattern on her dress: Orange
Other things on her dress: N/A
Scary's Pet
Scary's pet is a black cat with a gray witches hat!
Scary's Home
Roof: Candy and Halloween decorations
Wall Color: Green, Black and Orange
Scary's other merchandise
Scary Full sized Doll
Scary Lalaloopsy Mini Doll
Scary Micro Lalaloopsy figure
Guess What!
Her cat is a recolor of Candace Coolio's cat!
Scary is a halloween Lalaloopsy Doll!
Her name is pretty intense!
Gallery
Ad blocker interference detected!
Wikia is a free-to-use site that makes money from advertising. We have a modified experience for viewers using ad blockers

Wikia is not accessible if you've made further modifications. Remove the custom ad blocker rule(s) and the page will load as expected.