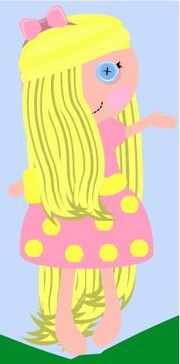 Sherry D. Invisible is the first invisible Lalaloopsy in all of LCDI! On the doll, she's half-transparent and half-doll with brushable hair. Her twin brother is Achieve D. Impossible. 
Information
Sewn On: August 12
Sewn From: A transparent dress/An achiever's medal
Sherry's Personality
Sherry can't be seen that much! She doesn't like to be seen because of her  "icy blue eyes and super long hair". Sherry's voice can only be heard when you say "Invisible Sew, Invisible Doll! Please speak to me!". A LOT of dolls said she's a ghost. She can act like Mentos on Coke when she's mad. She thinks her brother overreacts, because he always wants to join in competitions.
Sherry's Appearance
Sherry has Cinderella-colored hair that's super long. She wears a dress a LOT like Sarah Springrun's, but Sherry's is yellow-pink themed, and longer. She also wears yellow stockings. She doesn't wear shoes.
She has pale skin with icy-blue eyes.
Sherry's Pet
Her pet is an half-invisible dog that has an invisible collar. Her dog is the most smart pet in all of LCDI! Her pet can also bark really loud, that your eardrums will BREAK! On the doll, her pet is half-transparent and half-doll.
Sherry's House
She lives with her twin brother, Achieve D. Impossible in a normal one-storey house.
Sherry's Merchandise
Sherry D. Invisible Full Sized Doll
Sherry and Achieve "We're Cool!" Twin Pack
Guess What!
Sherry doesn't like to be seen
Sherry is the most intelligent and reliable source of tree information in all of LCDI.
She may have similarities to Sherri Charades (Real Lalaloopsy Littles Doll)!
She has an official roleplay account! Link: User:Sherrydinvisible
Her name means "Dear Invisible One" by AskSuzette101
Gallery
Ad blocker interference detected!
Wikia is a free-to-use site that makes money from advertising. We have a modified experience for viewers using ad blockers

Wikia is not accessible if you've made further modifications. Remove the custom ad blocker rule(s) and the page will load as expected.