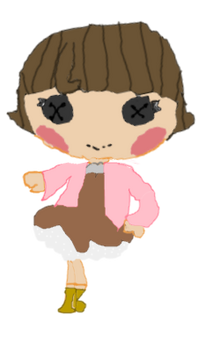 Shiny is the youngest of the Dusty Trails Family.
Information
Sewn on September 17 (Apple Dumpling Day)
Sewn from a Real Cowgirls Hat
Personality
Shiny Dusty Trails is sweet and loves doing splits. While playing with all the other Lalaloopsies, and Prairie, Trouble, and Sheriff, She tries to do a backflip, but she always tumbles on her head
What Shiny Looks Like
She has brown hair (Almost like Old Sherri and Beauty's hair) Black Button eyes, Sweet Red Cheeks, and Fair Skin. Her dress is Gray at the top, and Brown in the middle. Her white laces are at the bottom. Silver does not have socks because she is an articulation doll. Her boots are dark yellow.
Shiny's Pet
Her pet is a Fizzy Pop Shake, but Shiny did not adopt him until July 18th of 2016
Shiny's Home
Shiny <probably> lives with her family.
Trivia
Silver Dusty Trails is the first ever Articlulated Littles doll. The collection will also have Summer Kimono, Hunter Evergreen, Colorful Shapes, and Catrina in Lalaloopsy Land.
Silver does not have a hat.
She will enter Miss Lalaloopsy Universe 2014 (If there is one)
She will be Anna for halloween this year
Silver never tried Pumpkin Pie. She said it will be pretty tasty
Sheriff always gets mad at Silver and Trouble for making pillow houses with his blanket.
Ad blocker interference detected!
Wikia is a free-to-use site that makes money from advertising. We have a modified experience for viewers using ad blockers

Wikia is not accessible if you've made further modifications. Remove the custom ad blocker rule(s) and the page will load as expected.