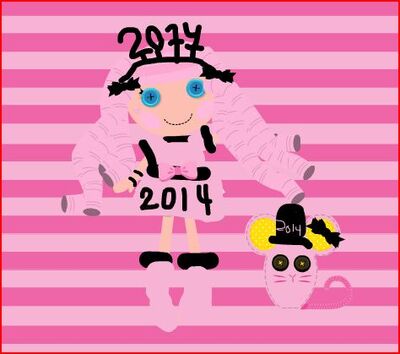 Information
Sewn On: January 1st (New Years Day)
Sewn from: New Years clothes
Personality of Sierra
Sierra loves the new year! She invites all lalaloopsy dolls to celebrate New years day!
What Sierra looks like
Hair color: Pink
Hairband Color: Black
What she wears: A cute pink and black new years dress with a pink bow and black and pink boots
Her sewn-on pattern on her dress: Pink
Other things on her dress: Cute "2014" word on her dress
Sierra's Pet
Sierra's pet is a pink mouse with a black bow and black new years hat!
Sierra's Home
Sierra's home is a new years themed home!
Sierra's other merchandise
Lalaloopsy New Years Exclusive doll at Target
Guess What!
Her name was once Alie but since 2014 came around she changed her name!
She is a new years girl, so she doesn't like waiting for the next new year!
Gallery