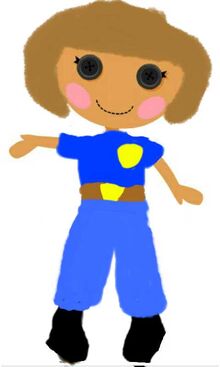 It is the best cop on the LCDI.
Information
She was sewn on: July 21st
Sewn from: A police girl's uniform
Personality
She always does what's right and always helps everyone do the same.
She dislikes it when people disobey the rules and do mean and bad things
but she is a sweet girl who is strong and stand up for her friends.
Home
Siren lives in a police station and it has red white and blue on the outside and her chimney is a police car siren.
Pet
Her pet is a friendly German Shepherd always looking for some play time....when she's off duty. She is brown with a darker patch on her back and a gray spot on the top of her head. She also wears a police hat on the top of her head.
what Siren looks like
Siren has short hair that's a light brown color and has black eyes. She wears a dark blue T-shirt and light blue gloves with a star on each glove and a pair of denim capri's. She has a brown belt with a gold buckle. She also wears a police badge on her shirt. Her shoes are dark blue boots. She has a dark blue blow in her hair with a gold star on it. She has light skin and pink cheeks.
Ad blocker interference detected!
Wikia is a free-to-use site that makes money from advertising. We have a modified experience for viewers using ad blockers

Wikia is not accessible if you've made further modifications. Remove the custom ad blocker rule(s) and the page will load as expected.