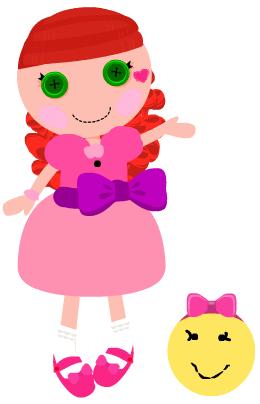 Smilene Heart Smiles is a smile-themed Lalaloopsy doll! She was made by Aliahvenicegarcia.
Information
Smilene was sewn on October 7, World Smile Day (According to Total Girl magazine). She was sewn from a pink smiley dress!
Smilene's Personality
Smilene lives simply, and calm. She always smiles, and make people & dolls smile. She never (well, maybe sometimes) gets sad! 
Smilene's Appearance
Smilene wears a dark pink polo, a pink skirt, and a purple belt. She also wears fuschia pink Mary-Janes with a pink ribbon.
She has pale skin, long curly red hair, and green eyes.
She also wears a bracelet.
Smilene's Pet
Her pet is a smiley!
Smilene's Home
She lives in a simple house that has smilies.
Smilene's Merchandise
Smilene Heart Smiles Full-Sized Doll
Guess What!
She shares the same birthday as Alie the Theresian and Aliahvenicegarcia!
Ad blocker interference detected!
Wikia is a free-to-use site that makes money from advertising. We have a modified experience for viewers using ad blockers

Wikia is not accessible if you've made further modifications. Remove the custom ad blocker rule(s) and the page will load as expected.