Snowy is the part of the Lalaloopsy Moms series of Mittens Fluff 'N' Stuff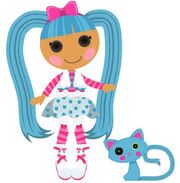 and Bundles Snuggle Stuff. She is a fanmade character by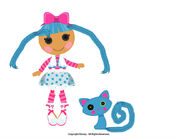 KeithArnaultsFanon and was later improved by Aliahvenicegarcia.
Information
Sewn on: January 15th
Sewn from: Eskimo's Scarf!
Snowy's Personality
She loves to go sledding with Mittens and Bundles, and making scarfs, mittens, and hats, and also snow suits from yarn!
Snowy's Appearance
Snowy has long blue hair while she wears what her eldest daughter wears. She also wears a pink headband.
She is tanned.
Snowy's Pet
Her pet is a blue cat with a long tail!
Snowy's Merchandise
Snowy Coldy 'N' Stuff Full Sized Doll
The Stuff Family Pack
Guess What!
She is a Lalaloopsy Mom.
Snowy Fairest stole her name TROLOLOL
Ad blocker interference detected!
Wikia is a free-to-use site that makes money from advertising. We have a modified experience for viewers using ad blockers

Wikia is not accessible if you've made further modifications. Remove the custom ad blocker rule(s) and the page will load as expected.