Sorry Aliah, I'm just making this page but all rude posts are deleted. This is for SOCIAL messages. Social and socialising means your kind to each other, not rude.
Ps. Aliah, if ya wanna delete this, then feel free.
-Lalaloopsyme
Let's play pictures 1 word!
The word is:
_y_ _ e _ _   C_ _ _ac_ _ _!
_ _ _ _ _ _ _ _ _ _
_ _ _ _

Quiz # 1
1. Who's the Loopsy?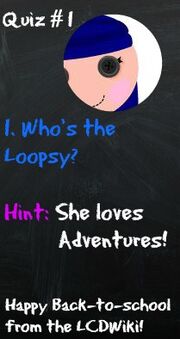 ---
Umm... Guys.... I was only gone for months and NO ONE CARES ABOUT THIS WIKI A.N.Y.M.O.R.E! I mean like, I think someone removed me as an admin... Oh well. Well, I'm more active now, since I discovered you can edit Wikia with a Tablet. Guys, come on. I'M BACK! -Aliah Garcia
Ad blocker interference detected!
Wikia is a free-to-use site that makes money from advertising. We have a modified experience for viewers using ad blockers

Wikia is not accessible if you've made further modifications. Remove the custom ad blocker rule(s) and the page will load as expected.