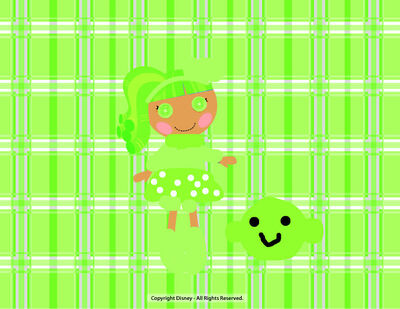 Meet Sour Lime, another customized lalaloopsy doll by Oriana2003love.
Information
Sewn on: January 3rd (Lime Day)
Sewn from: A lime
Personality of Sour
Sour loves everything lime! Her favorite color is only lime green and she loves making Lime juice for her friends to love!
What Sour looks like
Hair: Lime Green
Hairband color: Lime Green
What she wears: A cute lime green lime-scented dress with a green skirt with white polkadots!

Her sewn-on pattern on her dress: Lime green
Other things on her dress: N/A
Sour's Pet
Sour's pet is a Lime!
Sour's Home 
Roof: Green with lime peels
Wall Color: Lime green
Sour's other merchandise
Guess What!
Gallery