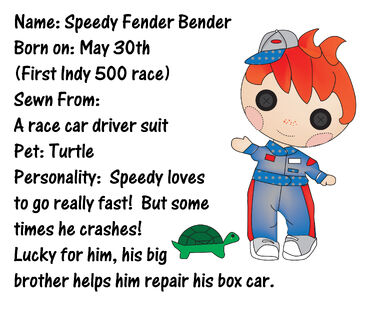 Speedy Fender Bender is the little brother of Ace Fender Bender. He was sewn on May 30th (the anniversary of the First Indy 500 race).  He is sewn from a race car driver suit.  His pet is a turtle. 
You might not get it when on the top it says the anniversary of the First Indy 500 race and in the picture and bottom says First Indy 500 race
Information
Sewn On: May 30 - (First Indy 500 race)
Sewn From: A race car driver suit.
Personality of Speedy
Speedy loves to go really fast on the pretend rail! But sometimes he crashes! Lucky for him, his big brother helps him repair his box car.
What Speedy looks like
Hair Color: Orange
What he wears:  He wears a one piece suit in blue with red detail and polkadot collar and belt.  His shoes are grey tennis shoes.
Her sewn on pattern on his dress: Blue
Other things on his dress: N/A
Speedy's Pet
A turtle thats green.
Speedy's Home
He lives with his brother
Speedy's Other Merchandise
Lalaloopsy Littles Doll
Lalaloopsy littles doll with Ace I. A Two pack.
Guess What!
A L

alaloopsy Little Box Car RC is available for Speedy.

He loves G.I. Jones' cart.
Sometimes he may crash into things.
May 30th is First Indy 500 race.
Ad blocker interference detected!
Wikia is a free-to-use site that makes money from advertising. We have a modified experience for viewers using ad blockers

Wikia is not accessible if you've made further modifications. Remove the custom ad blocker rule(s) and the page will load as expected.