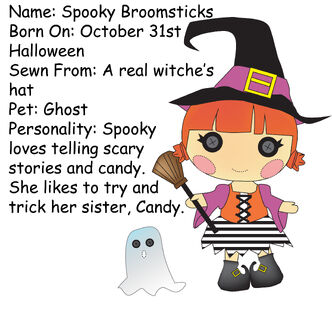 Spooky Broomsticks is the Lalaloopsy Little Sister of Candy Broomsticks! 
Drew by Missflyingtoaster using Adobe Illustrator.
Spooky's Information
Sewn On: October 31st - Halloween
Sewn From: A Real Witch's Hat
Spooky's Personality
Spooky loves telling scary stories and candy. She likes to try and trick her sister, Candy.
Spooky's Appearance
Spooky wears a witch outfit along with a BIG WITCH HAT. Her boots have buckles
Spooky's Pet
Her pet is a transparent ghost!
Spooky's Home
She lives with her sister, Candy Broomsticks
Merchandise
Exclusive Halloween Collectors Edition  - Spooky Broomsticks
Guess What!
She loves trick or treating everyday!
Ad blocker interference detected!
Wikia is a free-to-use site that makes money from advertising. We have a modified experience for viewers using ad blockers

Wikia is not accessible if you've made further modifications. Remove the custom ad blocker rule(s) and the page will load as expected.