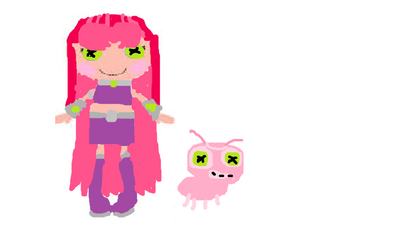 Meet
Star Blaze
, 
she is the Lalaloopsy version of Starfire!
Another customized lalaloopsy doll by Oriana2003love
Information
Sewn on: February 1st (Hynden Walchs Birthday)
Sewn from: Tamaranean clothes
Personality of Star
Star is a happy alien full of joy! She loves mustard and she loves her little bumgorf!
What Star looks like
Hair Color: Hot Pink
Hairband color: N/A
What she wears: Same clothes what Starfire wears
Sewn-on pattern on her dress: Purple
Other things on her dress: N/A
Star's Pet
Her pet is a little bumgorf named Silkie!
Star's Home
Star lives in a big T-shaped tower with the teen titans
Star's other merchandise
Star teen titans exclusive Lalaloopsy doll
Mini Lalaloopsy Star Blaze
Guess What!
She has super powers such as flight, starbolts and eye beams!
She is from the planet, Tamaran!
Gallery
Ad blocker interference detected!
Wikia is a free-to-use site that makes money from advertising. We have a modified experience for viewers using ad blockers

Wikia is not accessible if you've made further modifications. Remove the custom ad blocker rule(s) and the page will load as expected.