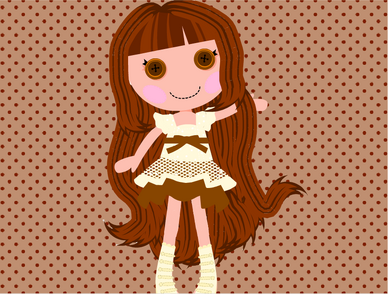 Whoopee. A regular sweets doll. I feel sooo excited that I'm back. *raises both hands lazily and unenthuiastically* 
Information
Tira was sewn on April 25, which is National Tiramisu Day, with lacy brown ribbons used to wrap around cake boxes (TMI, Cookiez)
Personality of Tira
Tira is fancy and a bit of a narcissist. She is very self concious and can't help but fix her hair every minute. Although she is a bit (a LOT) of a narcissist, she isn't a stereotypical jerk that considers those uglier than her as scum. She actually donates $500 to the charity every month and is very friendly and kind.
What Tira Looks Like
Tira has wavy, reddish brown hair that reaches down to her ankles. She has fair skin, brown eyes and pale pink cheeks. She wears a short dress. It has two layers: the first is a fishnet, colored cream the second is normal, colored brown. The top is colored cream with frilly sleeves and a brown bow tied in front. She wears cream tie up boot heels that reach up to her ankes.
Tira's Pet 
Tira has a coffee colored bunny that hops around and stuff. Isn't that extraordinary and exciting? It totally is!
Tira's Home
Tira lives in a lacy, coffee colored Italian house. The walls outside is polkadotted with dark brown. The inside is layered horizontally in the pattern: cream,coffee,cream,brown,coffee. Her roof is malt colored, topped with cream cheese icing and sprinkled with cocoa powder.
Tira's Other Merchandise
Tira Full Size
Tira Silly Hair Doll
Tira Mini
Tira Loopy Yarn Hair
Guess What?
She and Suzette are good friends.
She, Strawberry (Jam) and Razzy are the only ones with really long hair.
Macca 'Ringue Rone is her cousin and BFF
Ad blocker interference detected!
Wikia is a free-to-use site that makes money from advertising. We have a modified experience for viewers using ad blockers

Wikia is not accessible if you've made further modifications. Remove the custom ad blocker rule(s) and the page will load as expected.