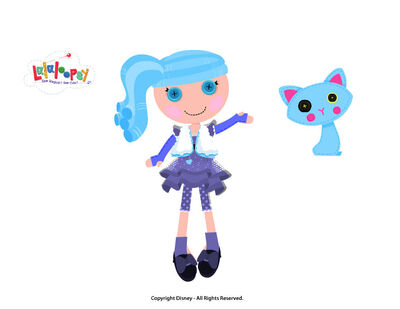 Information 
Sewn On: July 20th (Moon Day)
Sewn From: Moon Rocks/ Comets
Personality of Twighlight
Twilight is a quiet, shy girl who loves the moon. Every night she stays up to see twilight. Her favourite books are the Twilight series! (Because that's her name!)
What Twilight looks like
Hair Color: Blue
What she wears: A sparkly dress with mary janes.
Her sewn-on pattern on her dress: Blue with tiny white dots  
Other things on her dress: A white body warmer.
Twilight's Pet
Her pet is a light blue persian kitty!
Twilight's Home
Roof: A giant telescope
Wall Color: Sparkly indigo
Twighlights other merchandise
Twighlight Full Size
Twighlight Mini
Twighlight Mini - Ms. Lalaloopsy Universe July 2013 limeted edition
Twighlight Mini - Queen Version
Guess What!
Her sister is Dusk Sunshine
Lalaloopsyme has sent her to MGA so they might make her real.
She is not based on Twilight Sparkle
Friends and Relatives
Dusk Sunshine is her sister
Rachel is Her best friend
Mayo Ham 'N' Cheese is also her best friend
Land Water 'N' Air is her friend
Minty Fresh is her friend.
Gallery
Ad blocker interference detected!
Wikia is a free-to-use site that makes money from advertising. We have a modified experience for viewers using ad blockers

Wikia is not accessible if you've made further modifications. Remove the custom ad blocker rule(s) and the page will load as expected.