Twilight Stary Sparkles is based of  Twilight Sparke from MLP.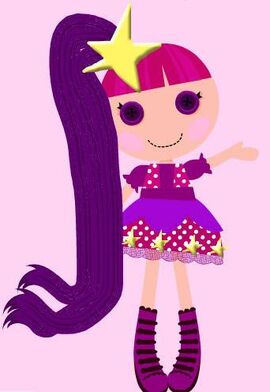 Information
Sewn From: Twilight Sparkles Crown
Personality of Twilight
Twilight is... starry. (Good job, Cookiez. That was so detailed)
What Twilight Looks Like
Hair Color: Pink and Purple
Hairband Color: Yellow Star
What she wears: A pink spotty dress with a purple belt and overskirt with puffed sleeves and yellow stars around the trim
Her sewn-on pattern on her dress: Yellow with pink and purple stars on
Shoes: Purple boots with dark purple straps
Twilights Pet
Her pet hasnt got a picture yet, but its spike the dragon.
Twilights Home
Roof: Yellow Stars
Wall Color: Sparkly purple and pink
Twilights other merchandise
Guess What!
She is based of Twilight Sparkle from MLP, Friendship is Magic.
Gallery
Ad blocker interference detected!
Wikia is a free-to-use site that makes money from advertising. We have a modified experience for viewers using ad blockers

Wikia is not accessible if you've made further modifications. Remove the custom ad blocker rule(s) and the page will load as expected.