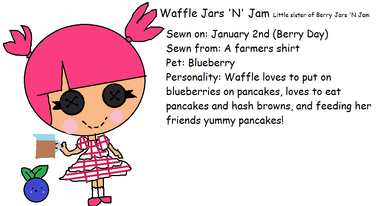 Meet
Waffle Jars N' Jam! 
She is the little sister of Berry Jars N' Jam.
Information 
Sewn on: January 2nd (Berry Day)
Sewn from: A farmers shirt
Personality of Waffle
Waffle LOVES to put blueberries on pancakes, loves to eat pancakes and hash browns, and feeding her friends yummy pancakes.
What Waffle looks like
Hair color: Pink
Hairband color: N/A
What she wears: A white dress with pink plaid on it
Sewn-on pattern on her dress: White with pink plaid
Other things on her dress: N/A
Waffles's Pet
Waffle's pet is a blueberry!
Waffle's Home
Waffle lives with her older sister, Berry.
Waffle's other merchandise
Berry and Waffle sister doll pack exclusive at Toys R Us
Guess What!
She shares her name with Waffle Choco Dip
She shares her birthday with Gloomy Pink Bow
Her favorite song is "Do you like Waffles?" by Perry Gripp
Her birthday is on Oriana2003love's birthday!!!
She often hangs out with her cousin, Eggy
Gallery
Ad blocker interference detected!
Wikia is a free-to-use site that makes money from advertising. We have a modified experience for viewers using ad blockers

Wikia is not accessible if you've made further modifications. Remove the custom ad blocker rule(s) and the page will load as expected.