She's the new lalaloopsy, Weather Sun Fun! She's the best weatherman in LCDI!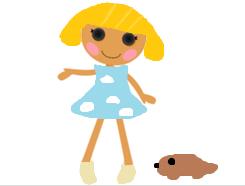 Information
Sewn On: February 2
Sewn From: A weatherman' suit
Personality of Weather
Her mood changes with the weather. When it's sunny, she is happy , when rainy, she is sort of gloomy.
What Weather looks like
Hair Color: Yellow
What she wears:sky blue dress
Her sewn-on pattern on her dress:white clouds
Weather's Pet
She has a pet groundhog
Weather's Home
Her house is a two-story golden weather station. It relies on the thermometer. It has a red tiled roof and a radar. All windows the has barometers. In the yard, a lot of things that can give forecast the weather is scattered.
Guess What!
She was sewn on Groundhog Day
Ad blocker interference detected!
Wikia is a free-to-use site that makes money from advertising. We have a modified experience for viewers using ad blockers

Wikia is not accessible if you've made further modifications. Remove the custom ad blocker rule(s) and the page will load as expected.