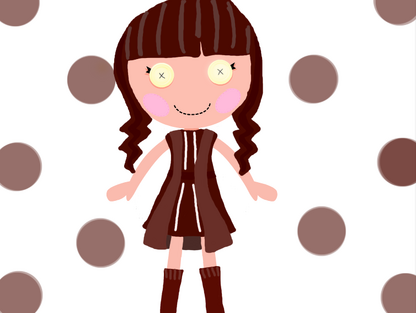 Zingy is a new Biscuit Loopsy by Gabi!
Information
Zingy was sewn sometime on 1934 with some Zingers.
Personality of Zingy
Zingy loves to zing everywhere. She has no problem coming up with zingers. Her BFF is Twinkie. They are alike in so many ways. She considers herself as the weirdest Biscuit Loopsy , has a little devilish side and can relate well with Kekuma. She has been made into 4 flavours over the years, chocolate, vanilla, raspberry and devil's food.
What Zingy Looks Like
Zingy has brown hair with straight lines and dirty white eyes (Dirty white is yellowish) . She wears a sleeveless dress with white lines and a brown belt, a malt-ish long vest and brown boots with lines at the top.
Zingy's Pet
Zingy has a pet rock that looks like a Zinger.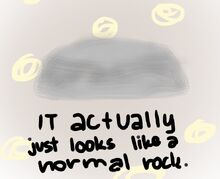 Zingy's Home
She lives in a Zinger House.
Other Merchandise
Full-sized
Mini
Big and Mini BL Bundle Pack
Loopy Bundle Pack
Mini Loopy Bundle Pack
Silly Singer Pack
Lalaloopsy Girls 'Sweet as Biscuits' Set
Lalaloopsy Tinies- Biscuit Bakery Pack
Ad blocker interference detected!
Wikia is a free-to-use site that makes money from advertising. We have a modified experience for viewers using ad blockers

Wikia is not accessible if you've made further modifications. Remove the custom ad blocker rule(s) and the page will load as expected.